For Industrial Wall Cutting rely On The Experts At Big Cut Sawing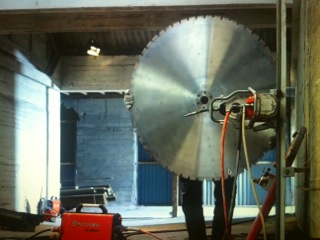 Industrial wall cutting Melbourne or better known as Wall Sawing is a serious undertaking that requires advanced equipment and specialised operators. Big Cut Sawing is the comprehensive package when it comes to expertise and state-of-the-art machinery. Their success is the result of seasoned professionals, dedication to customer satisfaction and their willingness to continuously invest in the most technologically advanced commercial and industrial concrete equipment available. For all your industrial wall cutting Melbourne, call today to talk with an expert.
Handling The Toughest Industrial  Wall Sawing In Melbourne For 25 Years
The machines at Big Cut Sawing's disposal are marvels of modern engineering, which allows Big Cut to deliver accurate and precise sawing on the largest and smallest scales. But this doesn't come with dramatic, over-inflated pricing. Big Cut Sawing personalises every experience, enabling the company to offer consistently competitive pricing without sacrificing the reliable service for which they are famous. There is no commercial concrete wall sawing in Melbourne that cannot be solved within a strict time frame and budget. This mentality has kept Big Cut Sawing at the forefront of the industrial industry.
The Best In The Business For Commercial Wall Sawing In Melbourne
Big Cut Sawing uses wall saws that are the vanguard of what is technologically achievable. Their power and efficiency are only matched by their safety. This is made possible thanks to the track-mounted, remote controlled construction of the wall saws. Big Cut's experts are able to made precision cuts in concrete without the physical strain of stabling the saws.
An added benefit of this feature is that it allows them to direct the entirety of their focus and experience on the sawing itself. There is literally no surface that cannot be cut by Big Cut Sawing. Vertical, horizontal, inverted, stair-stepped and uneven surfaces are all cut with effortless, unflinching accuracy. With a depth range in excess of 800mm, virtually any concrete wall sawing in Melbourne is accomplished with room to spare.
Big projects are a non-issue for Big Cut Sawing, but what about the small projects? What about tight, confined spaces where commercial-grade saws can make work cumbersome, time consuming and difficult? This is where Big Cut's team of experienced operators rises to the occasion. These specialists are confined-space qualified, which means they have professional experience dealing with the industry's toughest jobs. This qualification also enables them to be fully insured, which attests to Big Cut Sawing's dedication to best practices in Melbourne since their founding over 25 years ago.
Industrial wall sawing in Melbourne is a tough business. To be successful, it requires a tough team of specialists, the best equipment, complete reliability, professionalism and an unerring desire to deliver the highest possible level of customer service and satisfaction. This comprehensive list of requirements has allowed Big Cut Sawing to serve Melbourne for over 25 years, but it has also allowed the company to take its expertise to Victoria and to special projects throughout Australia.
Big Cut Sawing will always be the choice for the best in industrial concrete wall sawing in Melbourne. As a community leader and proud Melbourne local, Big Cut Sawing provides nothing but the quality service and results for which it has long been famous.