Ring Sawing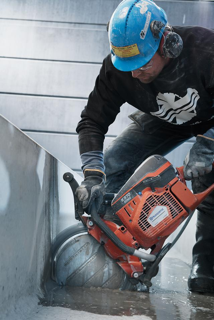 Big Cut Sawing utilises Ring Sawing Melbourne that is available in 3 phase and hydraulic for confined space requirements. Also available in petrol for outside applications. Typically used in conjunction with Hand Saws to achieve a maximum cutting depth of 300mm for detailed work such as cutting out window and doorway openings. Deeper cuts are accomplished using our Diamond Chain Saw.
Big Cut Sawing provides Ring Sawing Melbourne services throughout metro Melbourne.
When a project requires ring sawing Melbourne, call the specialists at Big Cut Sawing. Ring Sawing Melbourne requires very specific tools and knowledge, that most general contractors may not have. That is why at Big Cut Sawing we specialise in providing what the others don't, Ring sawing Melbourne. With over 30 years of experience in our field, we have all of the most advanced equipment.
Ring Sawing Done Exactly Right.
Big Cut Sawing offers many different ring sawing Melbourne services for our customers.  We have both electric and hydraulic powered ring saws for internal projects. We also have petrol ring saws for external projects. Having the most advanced technology available, this allows Big Cut Sawing to provide a cost efficient and time saving service to all our customers.
When you use ring sawing Melbourne in your project, we know that it needs to be done efficiently and quickly. Ring sawing is used to cut pipes, walls and more, so we meet your exact specifications every time. We are able to complete your ring sawing however you need it to be completed. Whether you need it cut vertically or horizontally, we are able to cut your penetration precisely how and where you need it to be. We can cut for plumbers or electricians if they need access to the concrete slab.
Same Day Service Available Throughout Melbourne.
For work sites throughout all of Melbourne and Victoria, we can provide any ring sawing service you may need. We also provide some ring sawing services for other areas throughout Australia. We offer same day service for customers in Melbourne. We adhere to strict schedules because we know that timing is crucial on work sites and anytime you are dealing with concrete. Never worry about when our operators will show up, because they will be on time, every time and provide your service when you need it done. We respect that you value your time and money, so we make an effort to always provide you with the most accurate scheduling and affordable prices possible.
When our operators come out to your site, they will have all of the equipment they need to complete your project. We know that in today's construction environment, efficiency is becoming more and more important. That is why we are committed to working with your schedule, and providing our services in the most efficient and effective manner possible. That is why we always use the most advanced tools possible. All of our concrete drilling projects are done safely and efficiently.
For ring sawing, Melbourne work sites should consider that Big Cut Sawing can drill your hole in any size from 16mm to 1 metre in diameter. Whether you are drilling in your slab to create spaces for plumbing, manhole access, or electricians, we can provide you with the core drilling that your specialists need. No matter what you are drilling for, we can provide you with the service you need every time. We will always provide you with safe, reliable service, with quick, effective speed and great prices.
Gallery