Chain Sawing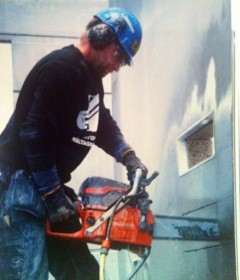 Big Cut Sawing are the chain sawing Melbourne experts. Call today to talk with an expert and discuss your project requirements. Save time and save money, call today. Utilising concrete chain saws to achieve detailed cutting with no over cuts for various applications such as air vents, to a depth of 400mm. Big Cut Sawing provides chain sawing Melbourne services throughout Melbourne metro, regional Victoria and all throughout Tasmania. Chain sawing Melbourne allows the removal of intricate sections of concrete that other conventional concrete cutting equipment is not able to achieve. FIND OUT MORE
Same Day Chain Sawing Services Throughout Victoria
We specialise in concrete chain sawing Melbourne and throughout regional Victoria. Our services maybe specialised but are also exceptionally versatile enabling multiple sectors to benefit from our expertise. From residential to commercial projects and industrial to civil projects.
Here is a brief rundown of the different types of concrete removals that Big Cut can offer in each of these sectors:
Residential: Whether you are preparing a new lot for a new house or renovating your existing home, concrete removal may come into the equation somewhere along the line. For instance, even after old homes have been torn down to make way for new construction projects, the foundation often remains. We have the tools necessary to remove old concrete foundations to prepare the property for your new home. You might also wish to remove a damaged garage floor or a cracked driveway to make way for a replacement, or to remove a swimming pool to make better use of that space. We can provide any of these removals in Melbourne.
Commercial & Civil Projects: Commercial and the civil sectors require cutting, coring of concrete and asphalt on a daily basis. For example, bridges, piers, roads, parking lots or large concrete walls. When you engage us for your concrete demolition, we can remove these excess amounts of waste concrete or asphalt. The waste product will be recycled into products and reused for future construction.
Industrial Projects: Some of our biggest concrete removal work comes from the industrial sector. Furthermore, we are often tasked with helping local municipal governments throughout Victoria and Tasmania. For example to assist with the removal of wharves, dams and water treatment plants. Additionally, large and or mass concrete structures. With diamond wire cutting saws and other powerful sawing and drilling tools, we are able to handle these projects with the same quality and assurance that we bring to smaller residential or commercial jobs. FIND OUT MORE
Same-Day Service Available Throughout Victoria
Are you a small business in need of concrete cutting services? Do you have a home upgrade project but don't know a thing about how to get the concrete wall removed? What if you need drilling or cutting? You have landed at the right place. At Big Cut Sawing, we offer several options to solve your construction issues. From different types of sawing such as road and wall sawing to core drilling and hand sawing, we have the concrete cutting solutions for you.
Wall sawing is one of the concrete cutting solutions that provides an excellent way to get precise cuts through larger and more specialised deep cutting projects to depths of 800mm through heavily reinforced concrete. The reason people choose wall sawing is to be able to saw through heavily reinforced areas even on uneven surfaces. This kind of flexibility gives you the room to create and build what you need for each project.
We also offer a full range of concrete cutting solutions such as core drilling services. Core drilling is useful when you need to drill a hole in a particular size diameter and depth, vertically, horizontally, angled or inverted. These are the holes that your subs need to do their job such as electrical or plumbing installation.
Same-Day Service Available Throughout Tasmania
We provide core drilling services throughout Hobart and Tasmania. We offer a variety of concrete cutting solutions services throughout Hobart and the Tasmanian regions. Call today to talk with an expert and discuss your project requirements. Save time and save money, guaranteed. There's no job too big or too small, Big Cut does them all.
In addition to the range of services offered, we are unique in the service that we provide. If you have a particularly urgent concrete cutting and removal requirement, call the experts today. We can get a team over to your location to assess your project, put measures in place and execute the task at hand.
Gallery