Road Sawing Melbourne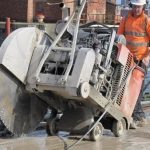 Road sawing Melbourne is the most common, cost effective method for cutting vertically into concrete and asphalt. Call today talk with an expert to save time and money.
In other words, cutting horizontal surfaces such as asphalt roadways and concrete pavements. Road sawing Melbourne can have a single diamond blade attached for deep cutting to multiple blades attached for applications such as grooving into pavements. Blades are available in a variety of diametres and capable of cutting to depths of 600mm.
Having a large range of road saw hire Melbourne machines suitable for various types of pavement. These include driveways and car parks, roadways and runways, concrete and asphalt. Fast, reliable, and guaranteed to save you money. Don't waste your time, talk with an expert today at Big Cut Sawing. FIND OUT MORE
Same Day Road Sawing
We are the leading road sawing hire contractors servicing Victoria. Utilising only the best road sawing Melbourne techniques to maximise vertical cutting on flat surfaces. Our expert team has a passion for road sawing and years of experience within the field. Hence, we offer a total solution for all the road sawing requirements in Melbourne and all throughout Victoria. One of our specialists will analyse the material setting as well as the underlying conditions for implementing the most effective solution to guarantee a smooth finish. That is why you need to call us for all your road sawing Melbourne requirements. FIND OUT MORE
Fast And Reliable Road Sawing
Road sawing Melbourne has become an essential part of constructing pedestrians, paved walkways, passageways, and bridges. In fact, the roads you drive on are built using the process of road sawing. It's important to realise that we are industry leaders when it comes to concrete cutting, drilling, road sawing, wall sawing, and a host of other concrete work. We are strict and efficient when it comes to implementing these projects. That is why a majority of customers in Melbourne has chosen us as their preferred contractor when it comes to road sawing. We believe that in the concrete cutting industry, a contractor is only as good as the tools he uses.
That is why we invest in the latest technology and the highest quality concrete cutting tools in the industry. In fact, we handle massive construction projects thanks to these tools and the expertise of our technicians. We use a powerful road saw that is capable of cutting through concrete surfaces and flat asphalt. These devices are also ideal for cutting suspended concrete slabs.
Advanced Cutting Technology
If it involves sensitive and hazardous projects, our team will use a fume-less third phase electric road saw for the job. Our diesel road saws help in petroleum facilities and saw cutting service stations. We are a leader in the industry that has been serving the Melbourne region for many decades. Our team works hard to deliver 100% customer satisfaction at all times. That is why they never leave a project until the customer is fully satisfied with the results. In fact, we are proud of our expertise and experience in all types of concrete cutting and drilling work. That is why you need to call us for all your concrete cutting and drilling requirements in Victoria and Tasmania.
Most compelling evidence is we are renowned for our approach to modern sawing. In fact, everything is performed with advanced techniques – including the selection of the project and equipment. Whether it is a sensitive surface or rough surface, the company has the relevant equipment to manage the project and offer a consistent finish to the project. When the client shares their requirements, our expert team will decide on the best techniques to optimise his/her plan. Our methods are what make the project a success.
We provide all the details of our solution to the client before starting the project to ensure that the solution is on par with the client's needs. The answer should work out as intended and that is our final goal on behalf of the client. That is why you need to call our expert team for all your road sawing projects in Melbourne.
Experience at Affordable Rates
At Big Cut Sawing, our team will first assess the project before using the right techniques and machinery for the project. All our procedures are modern and safe compared to what most of our competitors use. Once we finish the project, we ensure that the client won't be dealing with hazardous or sensitive situations where the residue of the project might lead to unwanted side effects in the long run. That is why it is best that you go forward with a reputable and experienced concrete cutting company in Melbourne such as Big Cut Sawing.
Advanced road sawing projects require meticulous attention to detail. That is why you need to hand over such projects to a highly trained and experienced road sawing company in Melbourne. Our expert team is equipped with some of the best solutions to your road sawing issues. All specialists working on our machines are appropriately certified. Our team is quite rigorous when it comes to the quality control process and qualifications. In fact, our attention to detail is vital to guarantee a quality finish to your project. We place our specialists through continuous training programs to advance their strategies and methods. That way they provide absolute consistency at all times. That is why you need to call us for all your road sawing requirements in Melbourne and throughout Victoria and Tasmania.
Safe Cutting Methods
Big Cut Sawing employs a team of highly specialised and experienced concrete cutting professionals in the industry. They are versatile in all forms of concrete cutting, drilling, sawing, and other projects. Working with powerful tools require a high level of safe work practices. That is why we employ some of the best professionals in the industry. Our team is here to help the customer at all times. That is why we are regarded as one of the best concrete cutting companies in the area. Our team will definitely go that extra mile to ensure that you are 100% satisfied with our services. We believe that the customers deserve to get what he expects when he or she choose us for the job. That is why we strive to give 200% to every job that we undertake. Call our expert road sawing and concrete cutting service in Melbourne.
We plan to achieve client satisfaction through quality service and delivery process. Our employees are trained on an ongoing basis to ensure their suitability to operate our highly advanced tools and equipment. Our success is measured by the continuous endorsement of projects from the clients in the area. That is why you need to choose Big Cut Sawing in Melbourne for all your road sawing projects.
Big Cut Sawing provides Road Sawing services throughout Melbourne, Victoria and Tasmania.
ANY SIZE, ANYWHERE, ANYTIME.
Gallery