Core Drilling Melbourne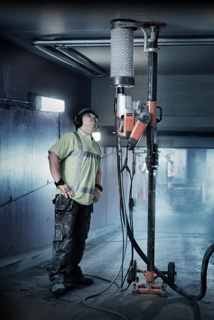 Big Cut Sawing are the core drilling Melbourne experts. Core drilling refers to drilling through concrete structures. Call today too talk with an expert and discuss your project requirements. Do you need multiple core drilling holes cut, get in touch with the experts.
Our team has years of experience and an established track record for drilling with precision and providing meaningful results. Set up the perfect solution and know the core drilling will go ahead as scheduled.
Want it done professionally without causing damage? We do it right, the first time. It's time to hire a professional core drilling Melbourne company with technologically advanced equipment. LEARN MORE
Deep Core Drilling
Big Cut provides deep core drilling for various scopes of works for our customers. We can operate on the surface or underneath, inverted. Our services are 24 hours a day, seven days a week, all throughout Victoria. Many of our drill rigs are custom built to suit our clients needs.
We can drill over >2000mm in depth and in any size diametre. We value our clients and their needs. Furthermore, we always strive to offer them the best core drilling rates. We do not overcharge our clients to perform simple core drilling tasks.
Large Diametre Core Drilling
Whether for the foundations of a building, the installation of piping, wiring or for another purpose our large diametre core drilling services can be tailored to meet your exact requirements. Call today to speak with an expert and discuss your project requirements.
Big Cut Sawing is the ultimate choice in Melbourne for core drilling. In other words, our attention to detail and overall efficiency make us the first choice in Melbourne.
While core drilling through the concrete and providing a seamless solution, the drilling and coring specialists will analyse the structure and guarantee prominent results. Do not settle for less because efficiency can make or break the outcome.
Commercial And Residential Core Drilling
We have extensive industry experience to become a trusted name among commercial construction companies. More over other businesses who require a reliable and professional coring drilling company.
Furthermore, this is commonly used for but not limited to steel fixing, plumbing and electrical projects. Inverted core drilling in Melbourne provides the necessary means when drilling and coring from the top of the concrete slab is prevented due to a number of reasons.
As a result to this, we have specialised equipment for this type of application. We have years of experience with inverted coring. Most importantly, you can rely on the experience and advanced sawing techniques gained by our friendly operators.
In other words, we ensure your drilling and coring requirements will can be delivered on time and within the project budget. With this intention, you will save time and save money, guaranteed. Call today to discuss your requirements.
Same Day Service in Melbourne
We have been providing quality core drilling services throughout Victoria since 2001. With extensive capabilities the company has the experience necessary to complete any concrete drilling project. Providing fast, reliable and innovative same day services to the  residential and commercial industries.
Our team can also offer their drilling and coring services for any domestic projects and will so with care and consideration. We take great pains to limit our disturbance to you and your neighbours and ensure we clean up all mess afterwards.
We always strive to put our customers first and aim to put in the extra effort to ensure you are entirely satisfied with our services. As a result, we always ensure the end result is client satisfaction.
Additionally, our skilled team of operators always provide to you, the client a high level of communication. Furthermore always having access to the most streamline and advanced technology. Call today to discuss your project requirements and allow us to save you time and money.