Concrete Scanning Melbourne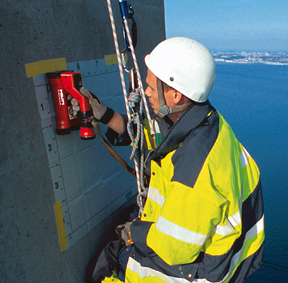 Big Cut Sawing are the concrete scanning Melbourne experts. Call today too talk with an expert and discuss your project requirements. Save time and save money with our expert service delivery. Providing services for all industries requiring concrete scanning all throughout Melbourne.
Big Cut Sawing provides concrete scanning Melbourne services in order to analyse and to interpret what's within the body of concrete. This allows us too quickly locate and document the position of post tension cables, conduits, pipes, and rebar.  A specialised service provided by highly skilled technicians servicing all throughout Victoria.
Experienced Scanning at Affordable Rates
Cutting or drilling through post tension cables or steel reinforcement is potential dangerous. Furthermore, the effect to the integrity of the concrete structure. Not to mention, injury to workers and damage to the cutting equipment.
Post tension cables are used in concrete slabs to provide strength reducing the need for high volumes of steel to be installed. It's for this reason damage to any PT cables needs to be eliminated to maintain the suspended slab integrity and strength. Concrete scanning will determine if post tension cables are also under great tension. Additionally, this means that when severed, they have the potential to fling back into the path of workers and operators cutting into the slab. Personal safety and equipment safety is also at risk in these situations.
Live electrical cables can cause serious injury to personnel if drilled or cut through. Even if a cable appears to have no voltage running through it, it can be very dangerous if you accidentally damage the cable. As the need to power the cable through lights or machinery can be intermittent, the cable may seem safe when first damaged, but become live at a later stage causing serious injury.
Same Day Scanning Service 
For concrete scanning throughout Melbourne and Hobart, job sites can rely on Big Cut Sawing for same day scheduling. Our operators are available to mobilise in order to assist with our clients needs. Our trained technicians are always focused on safety and client satisfaction. We have all the necessary equipment to complete any scanning project. We are fully insured, and our quality delivery will always meet your standards.
Call Big Cut Sawing today too talk with an expert and discuss your project. We will save you time and money, guaranteed. FIND OUT MORE