Swimming Pool Removal Melbourne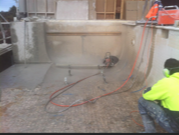 Big Cut Sawing provides a swimming pool removal Melbourne service. Transform that hazard into an area that is safe for every one. Tight & limited access areas are not a problem as we have different sized machinery and multiple techniques to enable us to mobilise through the narrowest of properties. At Big Cut Sawing there are various options available depending on the clients budget. A full swimming pool removal Melbourne option is available to a partial swimming pool removal Melbourne option. Call today to discuss removing that hazard from your back yard.
The Best Pool Removal Melbourne Has To Offer
If you have an old pool that you no longer use or just are hoping to upgrade, then you are likely in need of the best pool removal Melbourne can provide. You may think that all that provide this type of service are the same, but that simply is not the case. When choosing who you are going to use this service, there are some things you should know about how we stand above the rest.
First and foremost, we are more than happy to come to your residence and evaluate what will be necessary to complete the pool removal project. This will include the equipment, manpower and time that will be needed to complete the job. From there we will be able to give you a quote for services that will be very competitive when compared to our competitors. We strive to provide the best service for a fair and competitive price, which is something that you should be able to expect from any service provider.
One of the best aspects of our operation is that we specialise in being able to perform this type of work no matter where the pool may be located. We have a wide variety of equipment to ensure that we are able to handle jobs in what may seem like the most inconvenient of spaces. No matter where your home is located, we will be able to access the site and take care of the work in little to no time.
Not only will we handle the demolition of your pool, but we will handle the removal of the debris as well. This is a very hard task as concrete is extremely heavy, but with the use of our expert planning and equipment, we are able to do so efficiently. We strive to ensure that every part of the job is handled by us in an effective manner so that our customers can move on with their future plans for their yard as soon as possible.
If you do not plan on building another pool in the space that has been cleared from concrete and debris, we do have the ability to fill the hole that remains as well. This can be a rather large job, but given our experience we can handle it faster than you would likely expect. There is no reason to concern yourself with such a large undertaking given that we can do so for you.
Some people may desire to attempt to handle a project of this magnitude on their home, but that is not the best route to take. There is a great deal of expertise involved in ensuring that the job is done properly with a high focus on safety. Attempting a job of this nature without the proper training can lead to risking serious injury. Only professionals should be enlisted to handle this type of work. Fortunately, we have all of the equipment and experience needed to ensure that the job is done properly.
While this type of work may seem expensive, it is actually rather affordable compared to the costs that you would incur obtaining the necessary tools. Just renting the heavy machinery that is needed will cost more than what we ask for in return for the service. We are able to do this because we have invested in purchasing this equipment over the years so that we can provide our customers with the value that they deserve.
We are fully insured so that you will have no concerns about any risk of damage to your property. There are a number of outfits that are available to you that likely are not operating in a professional manner. You want to be sure that the company that you use for such an undertaking has the proper amount of insurance to ensure that your home and property are protecting if a worst case scenario were to occur. While we have a proven track record, this is not something that you ever want to risk.
We also have insurance to protect all of our employees in case of injury. This guarantees that you are not at risk of facing liability if they were to be injured on the job. Given the nature of how dangerous this work can be we take this very seriously. Again, no matter who you do choose to perform this work, you should verify that they have the proper insurance to protect you from any potential liability. Not every company operates with this as a priority.
At Big Cut Sawing we take every aspect of pool removal very seriously. We will give you a precise quote that details the costs without any surprises. We will also do the work with safety in the forefront. We will advise you on steps that you should take to ensure that you or anyone else living in your home will never be in danger of injury. For jobs that will take more than one day, we will set up boundaries to ensure the highest level of safety for you as well as anyone that might happen into your yard.
This is hazardous work that should never be taken on by anyone that does not have a great deal of experience in this work. We have the tools and experience to ensure that everyone involved in any aspect of the work will be protected from injury. In this fashion, we work to set the industry standard to ensure that everyone, including the property owners, are fully protected at all times.
If you have come to find that you are ready to get rid of your unsightly pool, we should be the first ones that you call. We will come to your home and evaluate your specific situation and provide you with the information that you need so that you can decide on how to proceed. We will do all we can to offer you a very competitive quote with the assurance that the job will be done right the first time.
Be Wise – We Specialise
Gallery