Wall Sawing Melbourne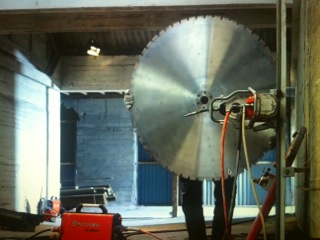 Wall sawing Melbourne provided by the experts at Big Cut Sawing. Call today too talk with an expert and discuss your project requirements. Wall Sawing Melbourne provides an efficient means for precise cutting for larger and more specialised deep cutting projects to depths of 800mm through heavily reinforced concrete. As a result, the autonomous track mounted remote control operating system cuts vertically, horizontally, inverted, steps and uneven surfaces. Further more, this makes wall sawing through heavily reinforced concrete a simple task.
We take a great deal of pride in our ability to provide the highest level of service that you could expect from a professional wall sawing Melbourne service. We strive to do the job quickly and professionally to ensure that you could move on with your project as soon as is possible. If you are in need of these services, no matter how big or small your job may be, we highly recommend that you call us first.
High-Quality Wall Sawing Service 
You may think that every provider will perform wall sawing Melbourne with the same methodology. Fortunately for us, this not the case. Every company is different and has a different amount of experience. Some also have different kinds of equipment, mostly outdated. As a result, the difference is how long the job will take and at what cost. Fortunately, we have a great deal of experience in this field. Having worked hard to ensure that we have the highest quality and most advanced equipment. This allows the running costs to remain low. Of course, we are proud to be able forward these savings onto our valued customers.
Using the best equipment reduces the amount of time that it takes to complete each job. This means that you can get onto the next stage of your project quickly. This saves time and saves money. Therefore our competitive pricing will always benefit the client. When consulting with Big Cut Sawing, our transparency will always describe the methodology in detail. FIND OUT MORE
Wall Sawing Experts Servicing Melbourne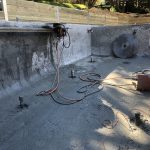 One of the best aspects of our high-quality equipment is that we have the ability to cut through just about any possible wall thickness. Many companies are limited in this way because they can only handle certain jobs. We have the ability to cut easily through anything that is up to 800mm in thickness.
Additionally, our equipment uses the highest level of technology to ensure that the cuts are done as efficiently as is possible. The equipment is programmed to be precise with each cut. This greatly reduces the amount of time that it takes us to complete a wall sawing Melbourne project. Every step is planned out in advance, allowing us to best utilise our skilled workforce to not only cut the concrete but also to remove it quickly and safely. FIND OUT MORE
Capability and Industry Wall Sawing Experience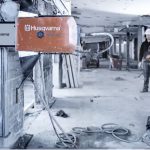 You can rest assured that all of the work that we do is done with safety in mind as a top priority. Further more we strive to ensure that every employee has the gear that they need to ensure that they are not at risk of being hurt on the job. Procedures are also in place and practised regularly to keep this as a major focus. The safety of anyone that could be present on the job site and in the area is taken very seriously as well. We will advise you of any changes that need to be made in order to ensure that not only our crew is safe, but anyone else that could be present is protected as well.
In addition to caring for the safety of everyone that could be present, we take great pride in the fact that we have the insurance needed to take responsibility for anything that may occur while we are on the job site. While any company that works in this industry should be fully insured, that is not always the case. We, however, considered this to be absolutely imperative. We at no time will leave our clients to be concerned that they will need to use their insurance in the event that an unforeseen event does occur. FIND OUT MORE
Fast and Reliable Wall Sawing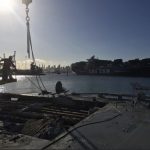 We also can handle just about any wall sawing Melbourne job that comes our way. We have gone above and beyond the other guys in procuring the equipment that is needed to handle even the largest and toughest of jobs. If you have been told by other companies that they simply can't handle the job that you need done, do not lose hope. We have not had to turn a customer away due to not being able to manage the job. FIND OUT MORE
Not only do we have the very best equipment available, but due to our experience with many complex situations, we have the ability to problem solve anything that we encounter. We know that no two jobs are alike and work together to create a plan that ensures that we can provide the service that is needed to do the job right and quickly.
Same Day Wall Sawing Service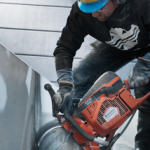 We are more than happy to come to the job site and evaluate the conditions that we will be working with. Every aspect will be considered so that we can provide you with a firm quote that includes everything that will be involved. An action plan will be created to ensure that we can complete all of the work within the time frame that we state as well.
While price is a very important factor in deciding which company you want to use, you should also consider the amount of time that is stated as well. Smaller companies without the specialised equipment will likely take longer to complete the job, subsequently costing more money. This obviously will result in lost time and money for your organisation. It also can lead to higher costs within the projects budget.
We are a leader in our industry for a very good reason. We provide the highest level of service at a price that makes sense. Our expertise is second to none in the Melbourne area. When looking for a quality wall sawing service provider, you will do well by giving us a call first. You will surely be pleased with us every step of the way. Our Wall Sawing services operate throughout Victoria and Tasmania. FIND OUT MORE
Portable, On-Demand Power
When commercial clients need heavy-duty wall sawing in Melbourne, chances are they are not going to have a power supply that can handle today's advanced machinery. Fortunately for Melbourne, we are able to provide power when power is not available on site. Furthermore, our fleet of 10 to 65 KVA generators enable fast, safe and reliable same day power on demand services to the Melbourne metropolitan area.
Wall sawing Melbourne, especially on a commercial scale, requires tremendous amounts of power. Due to this, the equipment Big Cut Sawing invests in is the latest and most technologically advanced. This is a testament to the company's willingness to continually invest in the best technology available, confident that the results will speak for themselves. FIND OUT MORE
Save Time and Save Money
Concrete Wall Sawing Melbourne has continued to evolve to the incredible stage it is at today. Big Cut Sawing invests in track mounted, remote controlled wall sawing operating systems. Able to cut through depths of up to 800mm of heavily reinforced concrete, it's hard to imagine a commercial wall sawing project in Melbourne that the professionals at Big Cut Sawing can't handle. But depth isn't the only advantage track mounted saws bring to the table.
They easily cut through vertical, horizontal, inverted, stepped and uneven wall surfaces. The remote-controlled nature of the saws also allows Big Cut's expert operators to safely make the best and most efficient cuts. Seasoned professionals and technology at the forefront of the industry is why Big Cut Sawing has a flawless sawing safety record.
No power? No problem. Big Cut Sawing transports its 10 KVA to 65 KVA generators wherever they are needed. With over 80 BHP of on-demand power, even remote locations and in-progress construction sites can enjoy world-class service and precision cuts. Commercial wall sawing in Melbourne has been revolutionised by Big Cut Sawing's extensive stock of equipment, same-day service and commitment to complete customer satisfaction.
With over 25 years working within the residential, commercial, industrial and civil industries, Big Cut Sawing realises that not only are happy clients the key to their success, but also that there is no sawing problem that cannot be solved. They have confined-space qualified operators who have achieved full insurance. They have built their reputation on their ability to maintain strict time frames and budgets. They assess every project individually and cater to every client's needs, allowing them to offer personalised concrete sawing in Melbourne at a competitive price. Whether it's about the best equipment or the best professionals in the industry, Melbourne's own Big Cut Sawing is the complete, tried and true package.
Any Size, Anywhere, Anytime
Gallery