Inverted Concrete Drilling Experts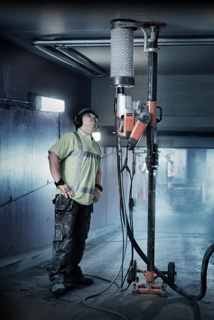 Big Cut Sawing are the Inverted concrete drilling Melbourne experts. Call today too talk with an expert and discuss your project requirements. Inverted drilling refers to drilling through concrete from upside down. In other words, the underside of a concrete structure. Furthermore, this is commonly used for but not limited to steel fixing, plumbing and electrical projects. Inverted concrete drilling Melbourne provides the necessary means when drilling from the top of the concrete slab is prevented due to a number of reasons.
As a result to this, we have specialised equipment for this type of application. We have years of experience with inverted concrete drilling Melbourne. Most importantly, you can rely on the experience and advanced sawing and drilling techniques gained by our friendly operators. In other words, we ensure your inverted concrete drilling Melbourne will can be delivered on time and within the project budget. With this intention, you will save time and save money, guaranteed. Call today to discuss your requirements. FIND OUT MORE
We can core drill through the most strongest of concrete material containing dense strains of steel. Using the inverted concrete drilling Melbourne technique allows us to get deep into the concrete for easy demolition, cutting and removal. With these skills, we are not limited to the depths we can achieve within the concrete structure. Inverted drilling Melbourne techniques deliver the kind of quality results our customers demand. The company provides inverted concrete drilling throughout Melbourne metro, Regional Victoria and all throughout Tasmania. FIND OUT MORE
Same Day Inverted Drilling Services
We have been providing quality concrete services throughout Victoria and Tasmania since 2001. With offices in Melbourne and Hobart the company has the experience necessary to complete any concrete drilling project. Providing fast, reliable and innovative services to the  commercial, industrial, mining, civil and residential industrials. As a result, we always ensure the end result is client satisfaction. Additionally, our skilled team of operators always provide to you, the client a high level of communication. Furthermore always having access to the most streamline and advanced technology. Call today to discuss your project requirements and allow us to save you time and money.