Concrete Cutters Tasmania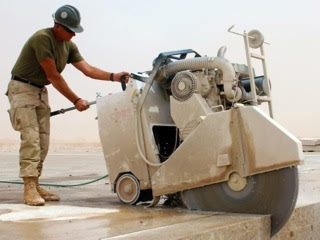 Big Cut Sawing are the leading concrete cutters Tasmania. In other words, providing services all throughout Tasmania for concrete cutting and large diametre core drilling for the mining, marine, transport and building industries. Call today to talk with an expert and discuss your project requirements. You will save time and money, guaranteed. Often your concrete cutter Tasmania requirements will consist of road sawing, core drilling, wall sawing and various other specialised forms of concrete cutting. For instance these aspects are needed for plumbing, electrical works and the removal of concrete structures.
For instance, a pavement needing to be removed, or a section of structural concrete needing to be replaced. In any of these instances, the work is best left to the experienced concrete cutters of Tasmania. Providing a transparent service throughout Tasmania for over 10 years. In fact our experience in the industry exceeds 30 years and we continue to strive to remain at the forefront with client satisfaction. There is no project that cannot be completed efficiently on time and within budget. FIND OUT MORE
Cheap, Fast And Reliable Concrete Cutters
Big Cut Sawing provides an extensive range of concrete cutting, drilling, demolition, and removal services. Road sawing is the most common method used for cutting asphalt and concrete horizontally. Wire sawing is used to take down large concrete structures such as bridges, walls, and others that may use reinforced concrete. In addition, the company provides hand sawing, ring sawing, and wall sawing. We use the most advanced equipment available within the industry in order to offer our clients outstanding solutions and unmatched customer service.
Same Day Concrete Cutters In Tasmania
A concrete cutters Tasmania is needed for a variety of projects. Contractors depend upon the precision workmanship of Big Cut Sawing for concrete slabs, trenches, walls, and more. Projects may need concrete cutters to provide openings for doors, windows, air ducts, and more. The expert cutters at the company will cut openings exactly to clients' measurements. In the concrete cutting industry, it is this precision that has built our reputation. Above all, it's our transparency, honesty, reliability, and commitment to safety that makes us the preffered contracted for all our clients. Not to mention our affordable and competitive rates for all our clients needs. 
Capable Of Meeting The Demands Of Our Clients 
When you choose to work with Big Cut Sawing, your choosing the best concrete cutters Hobart .With almost three decades of experience. One of the qualities that clients are looking for when choosing concrete cutters is experience. It takes a lot of skill to operate the equipment that is used on the job and to operate it safely. The company makes sure that all of its employees have the training and skills needed to deliver quality to work to clients.
Our operators have an unrivalled level of customer service, every time. Projects get completed on time and within budget, every time. Using the most advanced sawing and drilling equipment available to the industry enables an unmatched level of methodology and service delivery. Call today too talk with an expert and discuss your project requirements. FIND OUT MORE