Concrete Cutting Launceston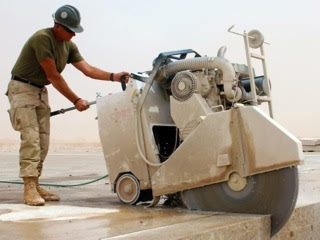 Big Cut Sawing are the leading concrete cutting Launceston experts. Call today too talk with an expert and discuss your project requirements. Save time & save money, guaranteed. The demands of the concrete cutting Launceston industry is provided by us with innovation, reliability and a fast service. Furthermore, our service delivery every day of every month for over the last 30 years, providing services throughout Launceston and Tasmania. FIND OUT MORE
Fast, Reliable And Cheap Concrete Cutting
The largest, toughest projects find us right at home. There is also no project too small or big for their world-class team of operators. After a thorough assessment of every Concrete Cutting Launceston project, Big Cut Sawing devises and implements the safest, fastest and most effective plan. Even the tightest, most confined spaces are handled with a combination of professionalism and technologically advanced equipment.
State of the art saws are available in 3-phase and hydraulic configurations. For projects that would be otherwise inaccessible. Big Cut Sawing is prepared for every kind of Concrete Cutting Launceston requirement. For larger undertakings, such as window and doorway cutting projects, Big Cut Sawing can employ Ring Saws to cut at a depth of up to 300mm. For large-scale, detailed jobs with no over-cuts, ingenious Chain Saws get the job done at depths of up to a staggering 400mm.
Furthermore, we are equiped for the biggest, most specialised deep concrete cutting Launceston projects. We have a fleet of track mounted, remote controlled wall sawing systems. These technological marvels can bore through 800mm of heavily reinforced concrete. It doesn't matter if the surface is vertical, horizontal, inverted, uneven or covered in staircases. The Wall Saw operating system makes these concrete cutting Launceston projects a safe and simple task. FIND OUT MORE
Same Day Cutting Service 
The company takes their expertise to an even higher level with concrete cutting Launceston. We can handle commercial, industrial, residential and civil projects of enormous proportions thanks to their investments in the most innovative technology available to showcase such capabilities. These incredible machines are the most efficient ways yet developed to remove truly large-scale Launceston Concrete Structures. There is literally no project too big for this Tasmanian-based company.
Foundations, bridges, piers, thick walls and even complex concrete structures reinforced with heavy steel are all part of a day's work. The beauty of the Wire Sawing Tasmania technology is its potential to cut at unlimited depths, which means no obstacle is too deep, too wide or too unwieldy. This is made possible by the revolutionary Wire Sawing technology that uses a multi-strand diamond cable. When combined with a series of heavy-duty pulleys, the Wire Sawing Launceston technology is able to produce a continuously looped concrete cutting device. As if that isn't enough, these saws produce little to no vibration and extremely low-decibel noise volumes. This enables them to be equally well suited to dry conditions as to wet commercial spaces where water slurry can be a concern.
Our most valuable asset is the highly experienced team of operators. With devotion to customer service and satisfaction, all projects are not complete until we meet client satisfaction. This is why we are the definitive choice for a concrete cutting Launceston projects. FIND OUT MORE