Concrete Cutting Hobart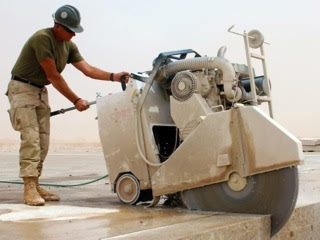 Big Cut Sawing are the leading concrete cutting Hobart experts. Call today too talk with an expert and discuss your project requirements. Save time and save money, call today. There are plenty of projects that require concrete cutting in Hobart. Homeowners needing plumbing repairs may need the services of a concrete cutter to access the problem. A business may need to remove its sidewalk and repair it. When your project requires a specialist in concrete cutting Hobart, call Big Cut Sawing today. With over 30+ years of experience and knowledge services include road sawing, wall / track sawing, wire sawing and large diametre core drilling. The company also works on select projects throughout Tasmania.
Large Projects Need Saw Cutting In Tasmania
Contractors and builders requiring concrete cutting Hobart continue to engage us as their preferred contractors. Most importantly this is as a result of our experience and reliability. We are the concrete wall sawing, road sawing, wire sawing and concrete drilling experts. That is to say, we specialise in concrete cutting Hobart jobs where deep cutting is required. Our advanced sawing equipment is remotely operated, autonomous, and is attached to walls, steep inclines and other concrete structures. For instance, whether your saw cutting vertically, horizontally, inverted, steps or even uneven surfaces.
Big Cut Sawing's diamond wire sawing system is the most efficient way to remove large concrete structures or create holes / penetrations in thick concrete. There is virtually no limit in terms of sawing depths. Wire sawing enables the operator to cut very complex structures, both in steel and heavily reinforced concrete using a series of pulleys to make a continuous cutting loop of wire embedded with diamonds.
The company performs a wide range of concrete sawing and cutting services in Tasmania. In addition to wire sawing and wall sawing, we provide road sawing to cut horizontally into concrete and asphalt pavements. Whether it is a roadway, suspended concrete slab or a driveway, a range of machinery is available to provide the necessary service to our customers. These machines are capable of cutting to depths of 650mm.
Concrete Cutting Specialists In Tasmania
Big Cut Sawing specialises in concrete cutting and concrete demolition in Tasmania. The concrete cutting Hobart business is a highly technical industry that requires extensive knowledge and experience. Big Cut Sawing is a fully licensed and insured company that provides services for the homeowner who may be renovating a home or for a full-scale civil project that takes months to complete. No job is too big or too small. Regardless of the size of the job, the company aims to provide customers with outstanding service and advice. The key to the business's success has been its honest, reliable, and exceptional workmanship through the years.
That success comes from a team that, as mentioned, has years of experience concrete and saw cutting. The company uses a wide variety of machinery in carrying out its services, and employees must know how to operate each piece correctly and safely to get the job done. Besides their outstanding performance on the job, the company's employees are committed to clients and providing them with results – not excuses. The company strives to complete every project on time and within the constraints of the budget.
When you have a project that requires saw cutting in Hobart, contact the experts at Big Cut Sawing. You'll get a safe and reliable service with a personalised solution, all at a competitive price. For more information and to talk with an expert, call today.