Concrete Cutting Shepparton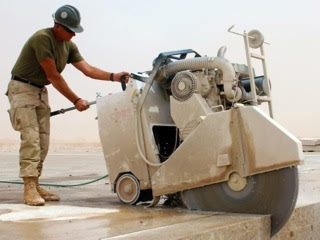 Big Cut Sawing are the concrete cutting Shepparton experts. Call today to save time and save money. For projects involving road sawing or removing a foundation, bridge or pier, diamond cutting systems offer a number of advantages over more conventional or old-fashioned methods of concrete removal. When blades or diamond wires are required, such concrete cutting Shepparton is handled by the experts. Capable of slicing through thick heavily reinforced concrete structures. If you want to hire a concrete cutter in Shepparton, here are five good reasons to choose a business that has a wealth of industry knowledge and experience. FIND OUT MORE
Fast And Reliable Concrete Cutting
Whether your project involves the removal of a suspended slab, pavement or a foundation, we have the capabilities and various machinery to ensure a fast and reliable service delivery. Furthermore, if your project is some what complex, we have the experience and knowledge to provide various methodologies to solve any problem.
Whether you're renovating your own home or have a major project requiring certain concrete cutting Shepparton needs. With over 30 years of experience, knowledge and technologically advanced equipment, a solution to all client requirements can be provided. We will complete any job, big or small, from start to finish. Our aim is to provide our customers with service, advice and satisfaction in what we do best. We do it right the first time.
Innovative And Efficient Cutting In Shepparton
Manoeuvrability: Typical concrete cutting saws can make serviceable cuts on roads or other exposed concrete. If you are working in a confined space, though—such as for a concrete foundation removal—a traditional concrete saw might not be a feasible option for removal, simply because you can't manoeuvre the saw into a good position to make the cut. Diamond wire saws have a flexibility that makes even the most difficult cuts possible. The manoeuvrability of diamond wire cutting systems also makes it possible to cut around pipes, electrical components or other obstacles. FIND OUT MORE
Compared to conventional saws used to removal or demolition concrete, diamond wire saws produce considerably less noise. For residential projects, this reduction of noise is particularly attractive, because it allows for projects to be completed without disrupting the entire neighbourhood. In virtually any scenario, though, the quieter nature of diamond concrete cutting can be seen as an advantage.
The Most Advanced Service Throughout Shepparton
Limited Vibration: It's important to realise that our concrete cutting Shepparton methodology, with diamond cutting equipment, has zero vibration.  Most importantly, this eliminates any likelihood of structural damage, thus making it possible to remove large blocks of concrete in one piece.
We offer the most advanced range of concrete cutting Shepparton services. Our equipment is specialised and provides the ability to execute various methods of concrete cutting. If you are looking to enjoy the advantages discussed above, we are your concrete cutting Shepparton experts. Call today to talk with an expert and we will save you time and money, guaranteed. FIND OUT MORE