Wire Sawing Brisbane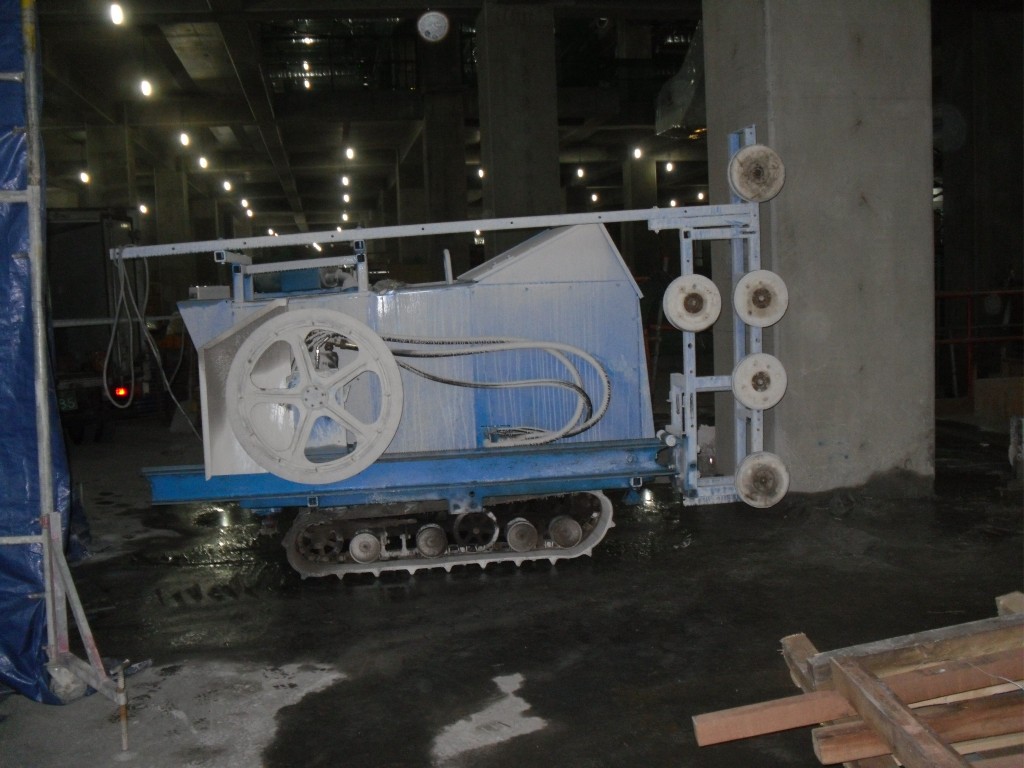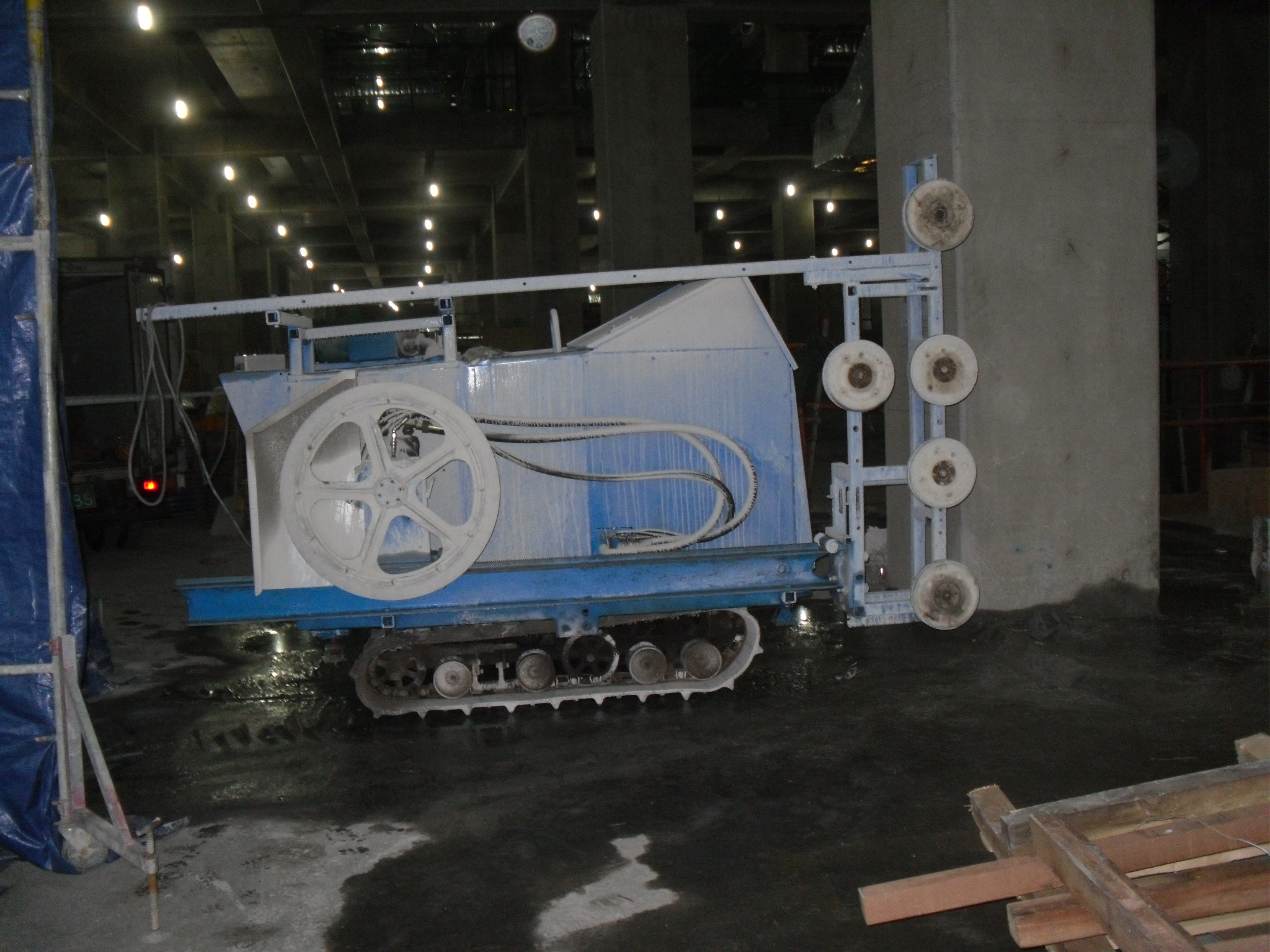 Wire Sawing Brisbane is the most efficient way to remove large concrete structures such as foundations, bridges, piers, thick walls and many complex structures both in steel and heavily reinforced concrete. Wire sawing Brisbane depths are unlimited. Big Cut Sawing provides a unique technology using a multi-strand diamond cable through a series of pulleys to produce a continuous looped cut. Wire Sawing Brisbane produces little to no vibration, extremely low noise volumes and are well suited for confined spaces. Dry cutting can be achieved if water slurry is a concern. Wire sawing is a simple but efficient process for cutting through large sections of reinforced concrete, bridges, towers, and steel structures. Simply put, it is very useful for removing large concrete structures. It is commonly used in challenging conditions where the workspace is confined and narrow.
If you have a wire sawing Brisbane project where traditional concrete saws are not an option, then you should consider wire sawing Brisbane. A wire saw is a machine that uses metal cable or wire for cutting. Wire saw machines are of two types: oscillating and continuous, but the continuous option is more popular.
Wire Sawing Technics 
Wire sawing refers to a concrete cutting method that uses a braided and diamond impregnated cable to cut through concrete. The cable is first strung either through or around the target object and a series of pulleys is used to tension it across the surface of the object to be cut.
The wire saw unit helps draw up the cable's slack through a series of pulleys contained within the wire saw unit. The wire is then strapped around the target object such as a beam or column and used to cut through the concrete of any thickness.
A wire saw is a great option where vibrations or noise from the more traditional concrete cutting methods are not allowed. Wire sawing allows for the cutting of very thick, large, or complex structures using a series of pulleys and an endless loop of cable.
Wire sawing can cut through concrete of virtually unlimited thickness and the resultant cuts are very clean and precise, which is why it is such an efficient process for cutting through concrete and can be used for both residential and commercial applications.
Wire Sawing Applications
Many of our Big Cut Sawing clients require wire cutting services at some point in their commercial or residential construction and renovation. Here are some of the areas where wire sawing can be used:
– Underwater cutting
– Column removal
– Demolition of large concrete structures such as piers, towers, dams, etc.
– Large, bulk removal
– Arch door openings
– Cutting concrete of virtually unlimited thickness
– Structural and foundation modifications
A Versatile Concrete Cutting Method
Wire sawing is particularly effective for construction projects that require concrete sawing in tight spaces or where it would be unfeasible to use larger machinery. At Big Cut Sawing, we understand that customisation is of utmost importance and always ensure that we meet all the customer requirements.
Wire sawing allows for highly controlled demolition and ensures the safety of the operating technician due to its ability to be operated outside the user's immediate space. With wire sawing, cuts can be made in various directions using wires of varying size and length and ensure minimal damage to surrounding structures.
The cable/wire used in wire sawing can be of virtually any length, width, and cutting depth, which means that modern wire sawing technology offers almost limitless possibilities. It is due to this reason that wire sawing is used where other cutting methods are impractical.
Benefits of Wire Sawing
Quiet: Our wire sawing produces less noise pollution compared to other concrete cutting methods, which makes it ideal in housing environments or for work being done at late hours since it is less likely to cause a disturbance to other people in the area.
Precision Cutting: The cable/wire we use in wire sawing is guided through the cross-section of the target object using drill holes, which means that cuts are precise to the size and shape specified. Since the wire is more flexible and narrower compared to standard ring saws, cuts can be completed more precisely.
Clean to Use: Wire cutting produces less dust compared to other concrete cutting methods since it works through abrasion and uses water as a lubricant, which makes the process smoother and easier and means that there's less mess to be cleaned up afterwards.
Quick: The process of wire is operated almost entirely by a motor that works at a fast and consistent speed that manual labour simply cannot provide, which means that the job is completed much faster.
Can be Used in Restricted Spaces: Wire cutters are typically more flexible in their use since they require less space to operate and because the equipment is not operated manually, it is perfect for jobs and job sites that cannot be accessed by workers with ring or wall saws.
Deep Cuts: Wire sawing allows for a virtually unlimited range for cutting
Increased Safety: The wire saw is operated via remote control, which means that there's less chance of accidents that involve members of staff.
Why Choose Big Cut Sawing?
Experienced Technicians
Our technicians receive specialised training in wire sawing machinery and techniques. At Big Cut Sawing, we only employ highly qualified industry professionals and maintain safe work conditions always to ensure compliance with the industry standards. In all that we do, our aim is to surpass the highest standards of quality and workmanship through the timely and efficient methods we employ.
Quality Service
Our primary goal is to achieve client satisfaction through quality service delivery. We aim to ensure client satisfaction by meeting and even surpassing all the requirements of our clients. To achieve this, we ensure that all our employees have the right skills and experience and we provide them with the right tools to fulfil these goals.
Safety
We always deliver on our promises and take pride in our work. We always identify and address all the health and safety issues on all our job sites. We ensure that all necessary control measures are in place before work commences. In addition, all our employees understand their role in ensuring that the work environment is safe.
Wire Sawing Brisbane? Big Cut Sawing has you covered
We are your trusted source for precise wire sawing Brisbane. To receive an estimate on your wire sawing Melbourne project, get in touch with us by filling in the form provided. One of our representatives will be in touch with you shortly. We are truly looking forward to working with you. Big Cut Sawing provides wire sawing services from Hobart to Cairns.
Best Wire Sawing Contractor in Brisbane
We are a fully licensed and insured concrete company offering a high calibre and wide range of different concrete demo and removal services in Brisbane. We bring over 25 years of experience to each job we take on which means a high quality of services delivered to you at a competitive rate. As an experienced company in the industry, we realise the value and understand the importance of staying on budget. We know the reality of saving money when a project is completed within the set project timeline. Our team will work with you to set a realistic timeline that ensures you get quality services delivered on time – that saves you money. Whether you need wire sawing, wire cutting for a large project, or concrete demolition and removal services for your home renovation, we can assist. We work with commercial and residential customers and offer the same quality of service no matter how big or small the job. We are proud to be the most efficient and economical concrete service company in greater Brisbane area.
Contractors are looking for a professional company to provide wire sawing Brisbane. Look no further. You can have a trusted resource in the concrete industry whom you can rely on for all of your concrete wire sawing projects. We offer several wire sawing services. At Big Cut Sawing we utilise the type of wire sawing equipment that can cut through unlimited thicknesses of walls and other large structures . That means any large construction project can easily be handled by our competent staff. Our staff work with you from the beginning until the end of your project, ensuring it gets completed to your needs with the highest safety standards.
Brisbane and Mackay Contractors 
We are proud of our reputation for reliability, honesty, safety and our competitive rates. In the concrete industry, there are several services you may need for your home or commercial site and we can tackle whatever job you require. Being aware that you have many choices for concrete-related service companies, we offer a superior service and comply with strict safety standards. We have been in the industry for over 30 years and that experience shows in the quality of our work. The 2009 expansion of the company and the service areas is evidence of our continued customer satisfaction. With offices in Brisbane and Mackay, Big Cut Sawing has the capabilities of servicing the surrounding areas. At Big Cut Sawing safety is paramount with a key focus on utilising the most technologically advanced equipment and the most competitive price available to our clients.
High-Quality Wall Sawing Brisbane Service 
Big Cut Sawing takes a great deal of pride in our ability to provide the highest level of service that you could expect from a professional wire sawing Brisbane service. We strive to do the job quickly and professionally to ensure that you could move on with your project as soon as is possible. If you are in need of these services, no matter how big or small your job may be, we highly recommend that you call us first.
Track / wall sawing Brisbane provides an efficient means for precise cutting for larger and more specialised deep cutting projects to depths of 800mm through heavily reinforced concrete. The track mounted remote control operating system cuts vertically, horizontally, inverted, steps and uneven surfaces. This makes wall sawing through heavily reinforced concrete a simple task.