Concrete Cutting Canberra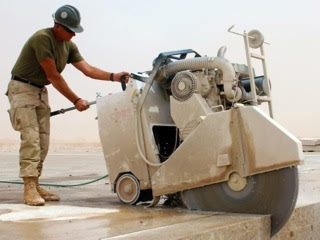 Big Cut Sawing are the concrete cutting Canberra experts. Call today to save time and save money. Concrete cutting Canberra provided by Big Cut Sawing offers a number of advantages over more conventional or old-fashioned methods of concrete removal. When blades or diamond wires are required, such concrete cutting Canberra is handled by the experts at Big Cut Sawing. Capable of slicing through thick heavily reinforced concrete structures. If you want to hire a concrete cutter in Canberra, here are five good reasons to choose a business that has a wealth of industry knowledge and experience. A considerable amount of planning goes into any given concrete cutting or sawing job. Because of the potential dangers of the work at hand, any good concrete cutting company will take ample time to investigate their work sites, implement control measures and eliminate any incidentals or potential dangers. Still, even with comprehensive planning and safety inspection policies, some concrete cutting jobs will still run into unforeseen challenges or complications. In such situations, it's important to be working with a concrete cutting team that can adapt and overcome.
Fast, Innovative and Reliable Concrete Cutting
At Big Cut Sawing, we like to think of ourselves as a highly adaptable specialty team. We provide concrete cutting services in Canberra, from foundation removals to road sawing. We have been providing these services for over 30 years, and many of our team members have been working in this industry for 25 years or longer. In that time, we have built a system of confidence and skill where there is no problem that we cannot solve. In fact, even in situations where concrete cutting jobs are interrupted or stalled by unforeseen complications, we are usually able to plan and implement an alternate approach without breaking strict timeframes or budgetary limitations.
Indeed, when you hire Big Cut Sawing for your concrete cutting job in Canberra, you can trust that we have planned ahead for delays and challenges. We have been working in this industry for long enough to be familiar with most of the complications that might stonewall a project like this. As such, we are quickly able to implement contingency plans, mobilise resources and extra team members to the project location and get back to work little delay and even less fuss.
Capability and Industry Cutting Experience
There are several factors that allow us to stay ahead of the curve in terms of project complications. Our experienced crew, obviously, is our X-factor. In the years since we first opened our business, we have removed concrete in virtually every setting and scenario. From piers and bridges to swimming pools and tennis courts, there is no project too big or too small for us to handle. And since we have experience across the spectrum of concrete removal, we are able to provide these services with better safety policies, better adaptability, and quicker timeframe estimates than most of our competitors.
Another major asset at Big Cut Sawing is our equipment. Since 2001, we have kept pace with technology, by keeping our fleet of vehicles and equipment as streamlined and state-of-the-art as possible. From powerful hydraulic core drilling units to diamond-beaded wire saws, we have all of the tools necessary to provide an exemplary concrete removal service.
If you require reliability, experience and innovation, call Big Cut Sawing today to talk with an expert. Save time and save money, call today. Concrete cutting Canberra is provided by the industry leaders in Big Cut Sawing.