Concrete Drilling Bendigo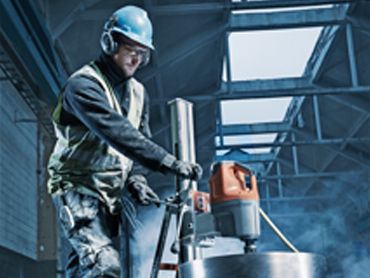 Big Cut Sawing are the concrete drilling Bendigo experts. Call today to talk with an expert and discuss your project requirements. Big Cut Sawing will save you time and money, guaranteed. Reliable, fast, accurate and precise results for professionals working in skilled-trade fields. Due to the time-sensitive nature of commercial and residential needs, Big Cut Sawing prides itself on offering a same-day core drilling Bendigo service. This allows it to cooperate successfully with other local and industrial companies. Reliability and years of experience providing core drilling Bendigo allows Big Cut Sawing to save time and save money on all projects. Big Cut Sawing provides a personalised approach to every project, every job is tailor-made to suit the client's needs, budget and expectations.
Same Day Concrete Drilling Bendigo
For coring to meet the expectations and precision required by serious industrial and commercial jobs, a concrete coring company must have the latest in technologically advanced equipment and the most experienced and skilled team of operators. The company is forward thinking. It makes investments in equipment that will prove invaluable to anyone in need of specialised concrete drilling Bendigo or Victoria. Because sometimes a project requires extensive work before concrete drilling is possible. This is especially true of commercial and industrial concrete drilling Bendigo. Big Cut Sawing is prepared to handle all types of concrete cutting, sawing, scanning, and even concrete removal and demolition, if necessary. Multi-phase projects are where Big Cut Sawing excels and where its diverse team of operators and state-of-the-art equipment makes them the full-service package in commercial concrete drilling Bendigo.
Big Cut Sawing Are The Experts
Big Cut Sawing's 30 years of experience have allowed it to develop confined-space certified operators. These specialists, combined with both electric and hydraulic concrete core drilling equipment, can handle any job, regardless of size, difficulty or location. Big Cut Sawing can drill holes from 16mm to 1 metre in diameter. Further, Big Cut Sawing is prepared to undertake coring cuts at unlimited depths. Big Cut Sawing has been approaching projects with the belief that there is no problem that cannot be solved. If you have a project you want completed, but think it may be too difficult, let Big Cut Sawing devise an expert, personalised solution. Whatever your requirements are, Big Cut Sawing has what it takes to suit your needs.
Industrial concrete core drilling in Bendigo has presented Big Cut Sawing with a diverse range of projects over the years. They have undertaken coring projects where they have been required to drill vertically, horizontally, at angles and on inverted surfaces. There has yet to be an architect who has stumped Big Cut Sawing. Whether you're an electrician, plumber, industrial or commercial developer, Big Cut Sawing is committed to serving its community with industry leading professionalism, reliability and a relentless desire to maintain a perfect record of customer service.